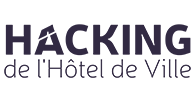 As you register for the Hacking, please let us know if you'd like to participate in the StartUp MeetUp BtoB meetings ?
Take part in one or more of the day's 4,000 pre-qualified business meetings. The ideal opportunity to fill your address book and optimize your chances of meeting the right people and establishing lasting relationships of trust.
The StartUp MeetUp is reserved for startups, investors, experts, consultants, corporates and SME's, support organizations and institutions, City of Paris employees and elected officials.